Fast and quality services
Service for Sample and Mass Production
As an MTO (made-to-order) clothes provider, we offer customized services. To ensure that your ideas are precisely what you want and to demonstrate our service and quality. We always provide samples for you to inspect in person. After receiving your approval, we will begin mass production of your 100% original and customized designs. Want to know if your intended designs will be flawless? Please submit your plans by clicking on the icon below. Learn how our specialists can locate the most economical solution for your design.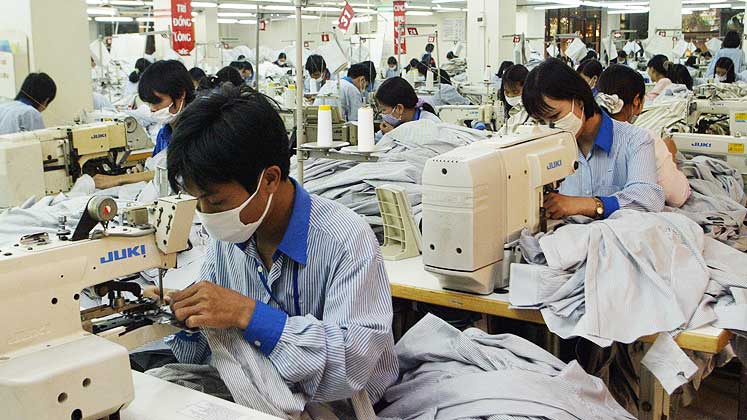 ONE-STOP SHOP FOR EVERYTHING YOUR COLLECTION NEEDS!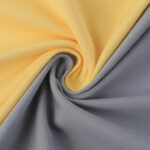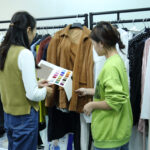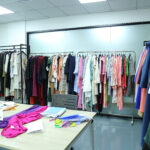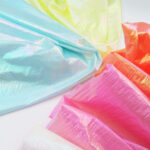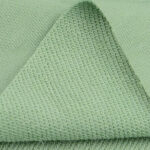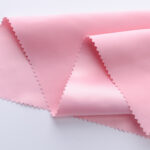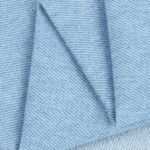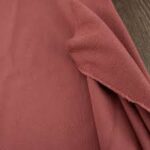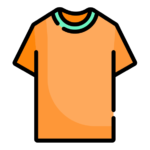 Sampling (sample development & sample production) is the procedure by which we transform your design and concept into a genuine product with the desired size, shape, construction, and stitching. All the information needed to complete the sample for your inspection before ordering in bulk. With a turnaround time of 7-10 days, our in-house sample team creates all pieces.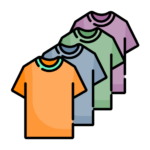 Mass production is a manufacturing technique that produces enormous volumes of standardized products rapidly and efficiently. This indicates that clothing products are mass-produced utilising standardized patterns and production methods. This permits garments to be made at a lesser cost and in a shorter time than conventional production processes.
Sample Manufacturing Services
Sample production is one of the most crucial processes in garment production. Your tech packs and technical drawings are represented in the example. It aids in determining the appearance of your designs before mass production, preventing any unanticipated disappointment.
How do we work on samples?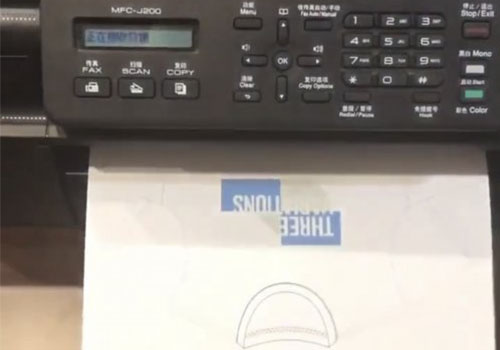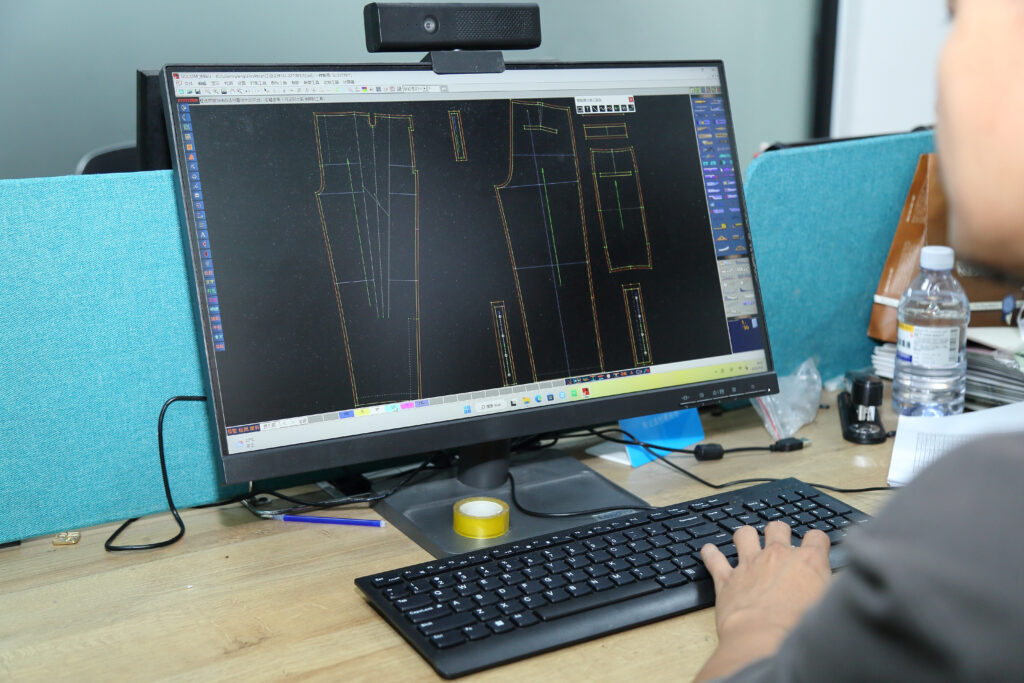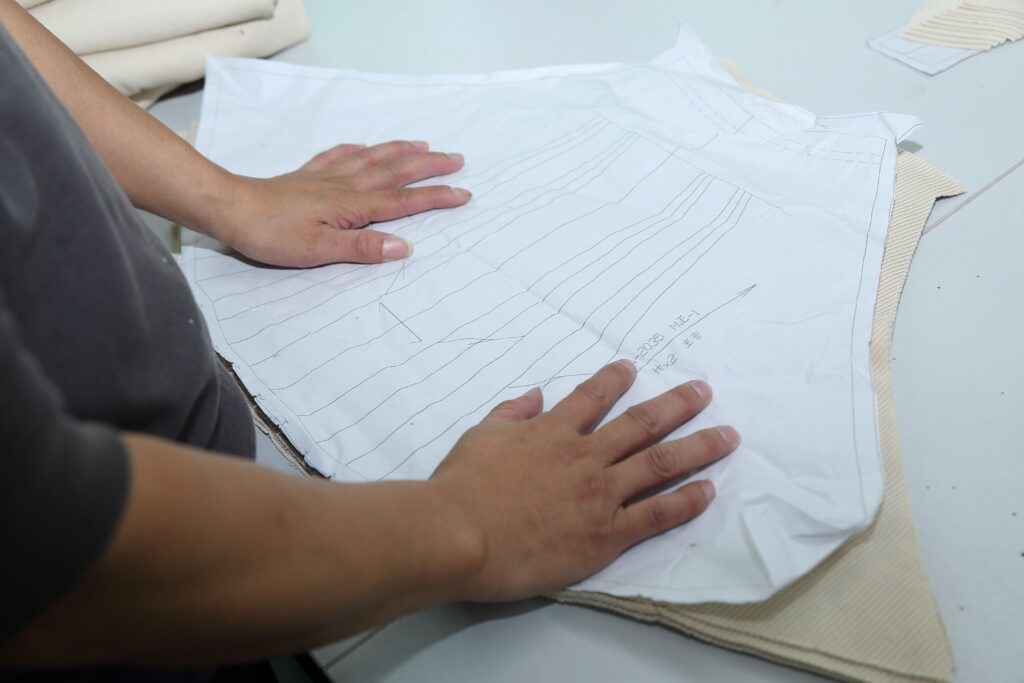 Put paper pattern above fabric.
Cut fabric base on pattern.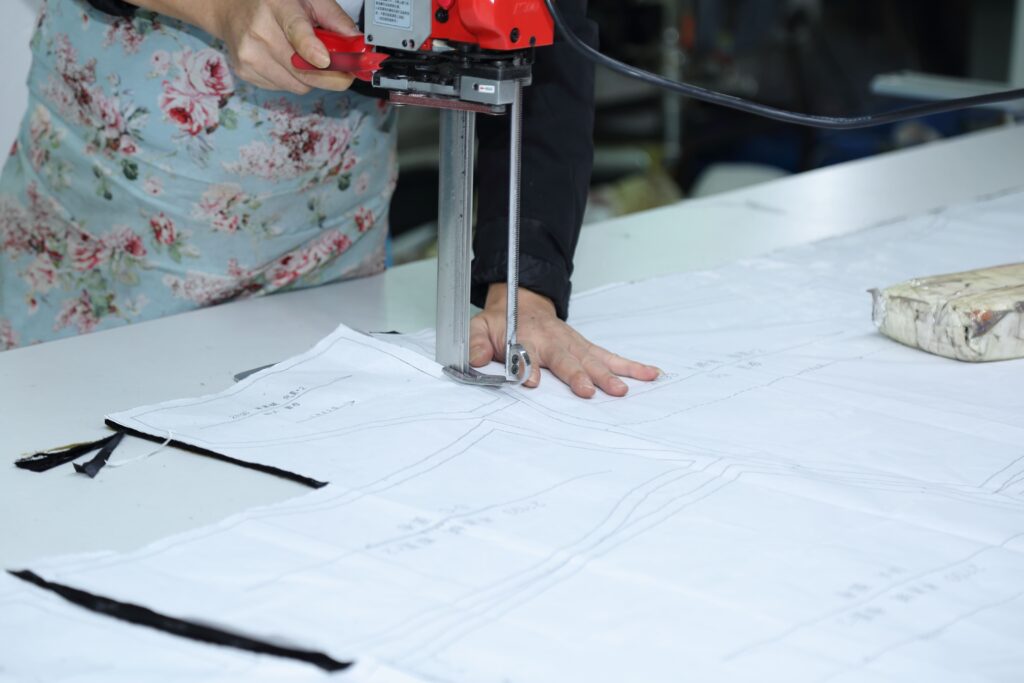 Put fabric under printing screen.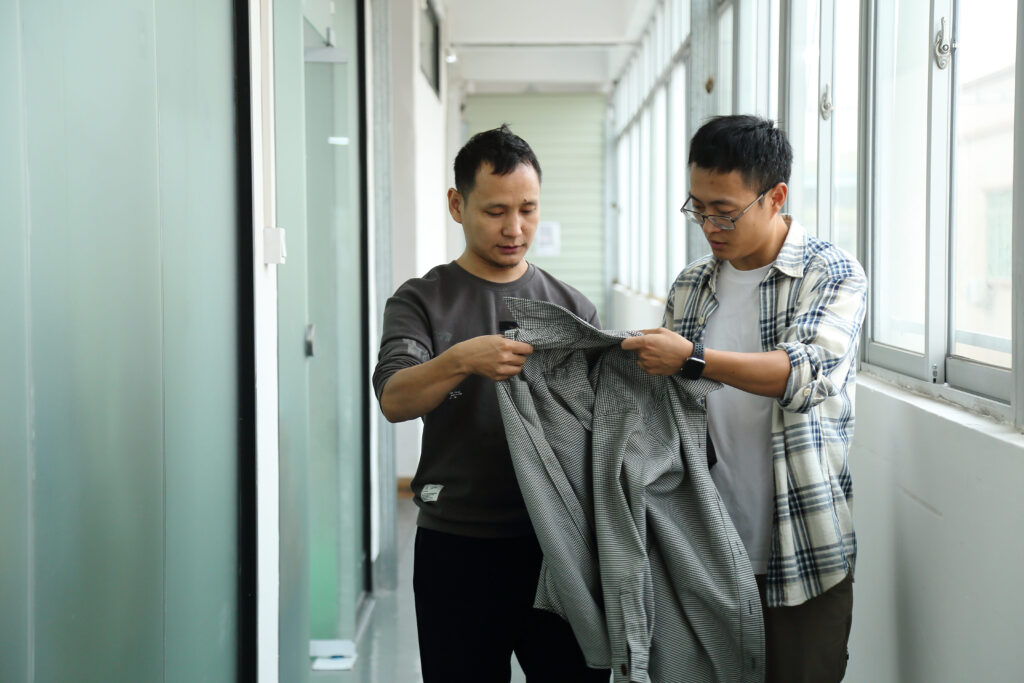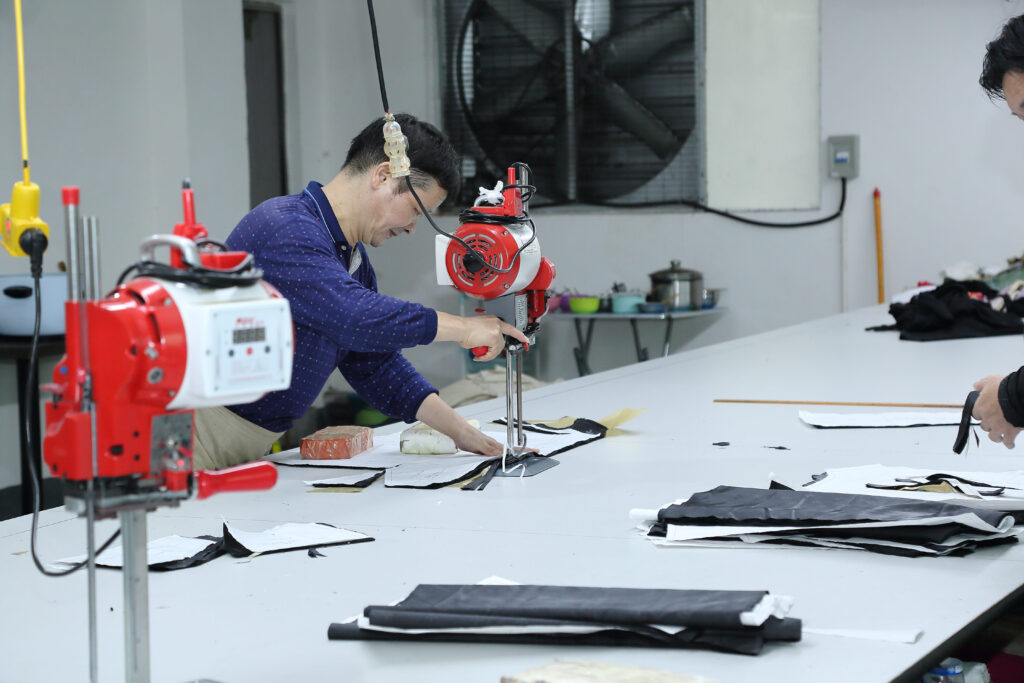 Embroider logo if needed.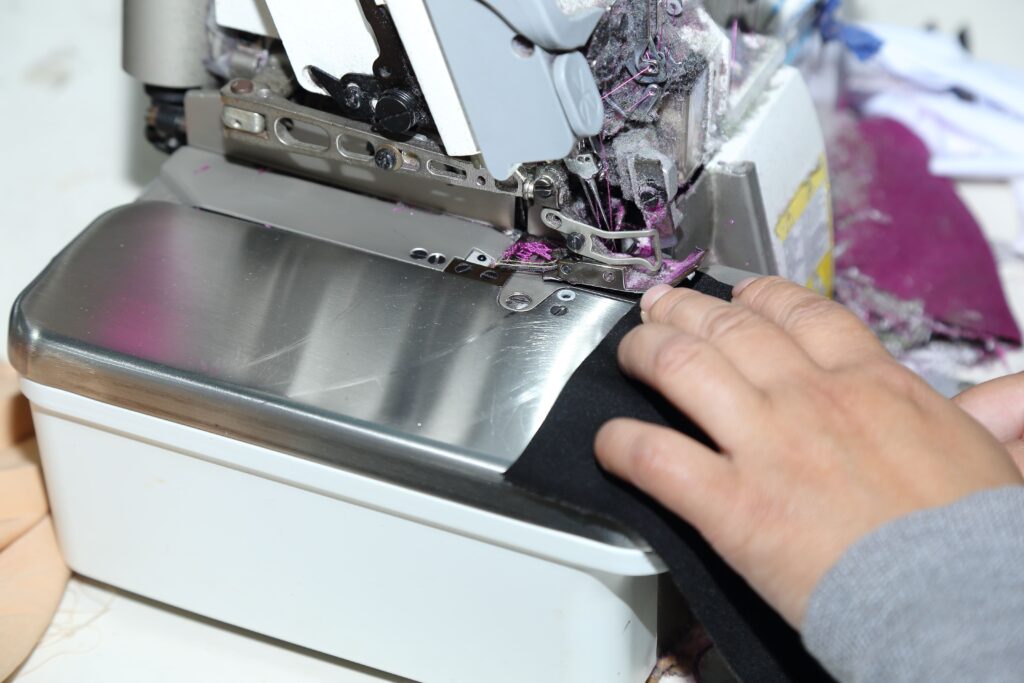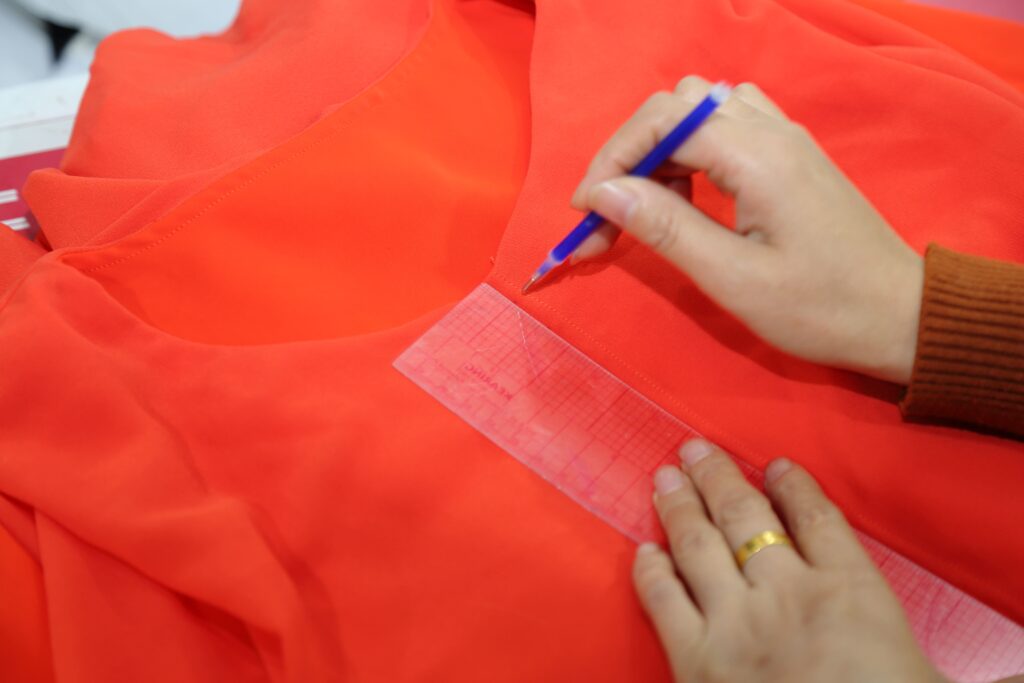 Sew cutted fabric together.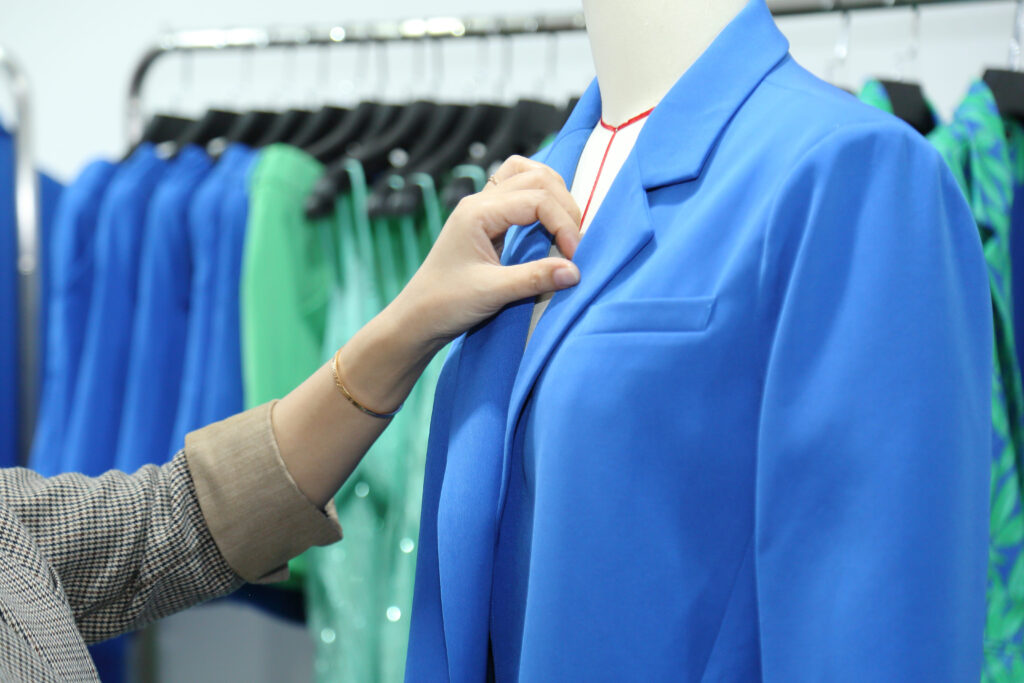 Take picture before shipping.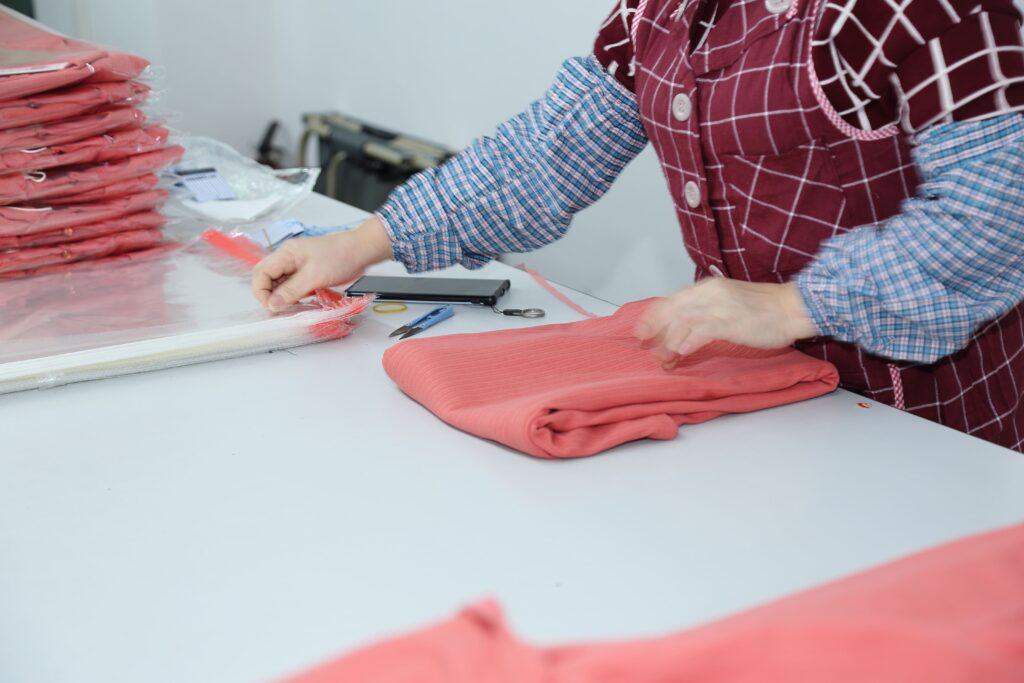 What information do we require from you to create a sample?
To improve our communication, please select one of these three alternatives that best suits you.
Send Tech Pack
Sending us your tech pack is the quickest and most straightforward way to convey your needs because a tech pack is a document covering all the specifics about your apparel, such as mock-up, fabric, size, accessories, etc.
Provide Sample
Sending us a sample of your apparel is the best approach to assist us with fabric sourcing, size/fit/style matching, and determining the desired level of quality.
Send Photograph
We also provide make-to-drawing and make-to-photo services if you still need a tech pack. Please send us some images or perhaps a draught of the style you're considering.
Still have some queries before placing a sample order?

We recognize that you may give us a great deal of thought before deciding to operate with us. Have some queries about sample manufacturing and our service? Visit our Frequently Asked Questions page.
Mass Manufacturing Service
As an FPP (Full Production Package) clothing factory in China, we aim to provide you with a comprehensive variety of safe, efficient, environmentally friendly, sustainable, and ethical garment production services.
What is our method of mass production?

After receiving your permission, we will begin mass production. There are five critical steps in mass production.
After receiving the fabric rolls from the fabric supplier, we shall release and inspect them meter by meter.
Then, we will send the high-quality textiles to be pre-shrunk to minimize the shrinkage issue. Untreated materials may shrink to 8-10%, while treated fabrics typically shrink from 1-3%.
When receiving the paper pattern from the designer, our cutting team member must lay the fabric on the cutting bed and then place the paper pattern on top of the material.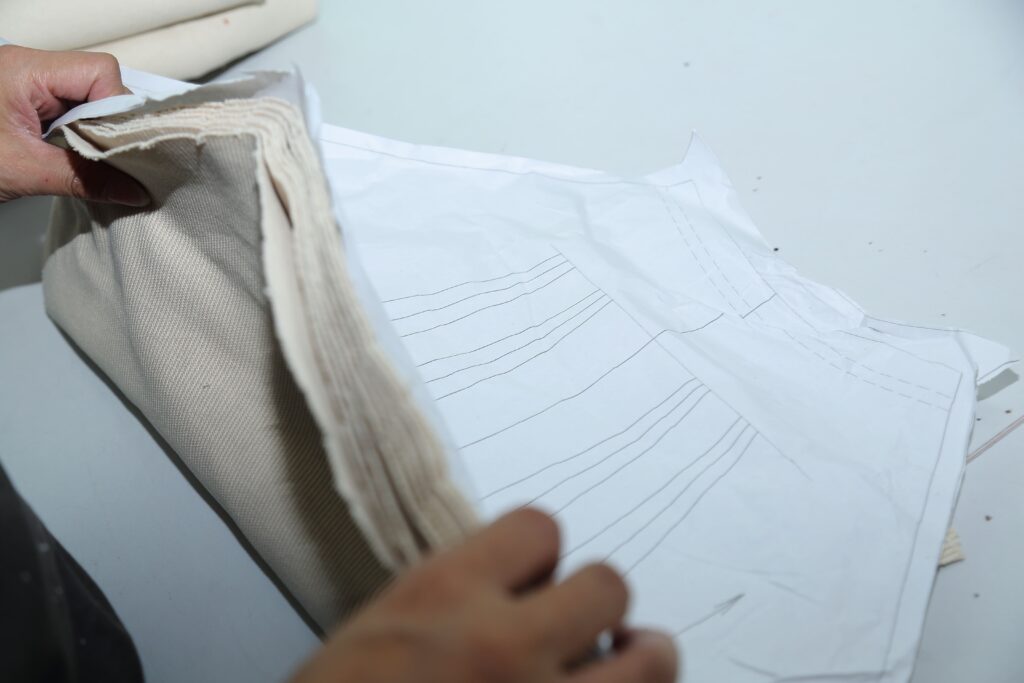 Fabric pre-shrink & check quality.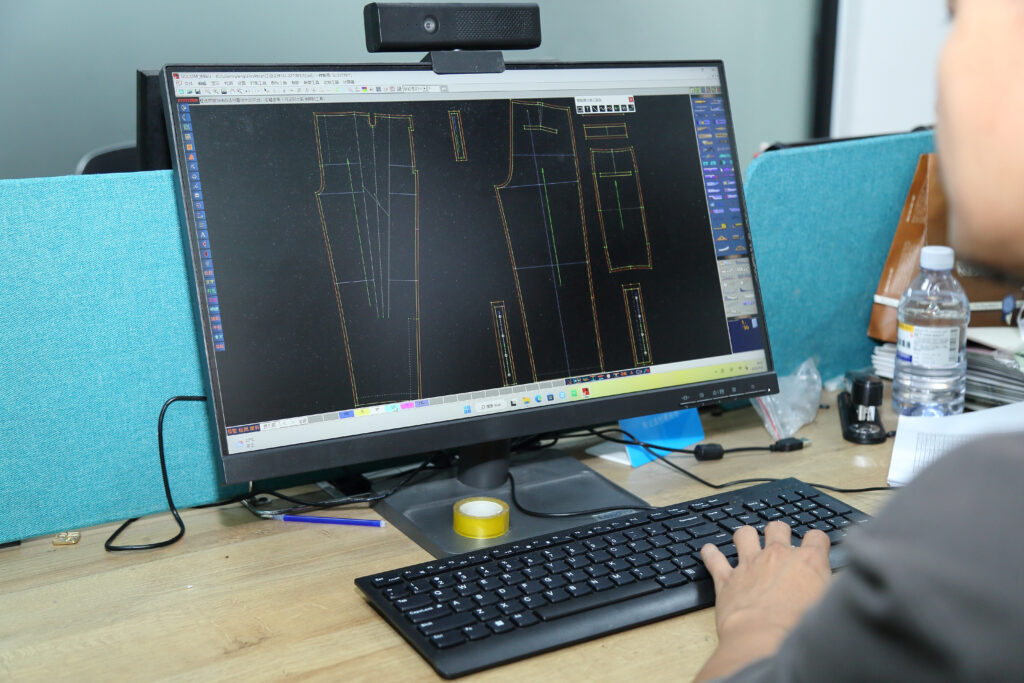 Size grading and paper patterns.
Using a cutting machine equipped with a straight and sharp knife, the next step is to cut fabric along the pattern's contour. This is the most important action. After it has been severed, there is no turning back. It is the most exciting and thrilling step in the apparel-making process.
Following the cutting operation, we will obtain the "fabric heaps" seen in the image. Each "fabric pile" typically refers to various clothing components, known as cutting fabric. Typically, a garment consists of a few to a dozen distinct cut components.
In addition to wrapping each "pile" with fabric tape and affixing a little label with the pile's information, our cutters must accomplish the following. Only in this manner will our sewing crew avoid making a mistake between different cut pieces and sizes.
Instead of printing or embroidery on a finished garment, as expected, there was neither. We will apply logos and graphics to pieces of cut fabric. This gives us complete control over the placement of the print and embroidery. Ensure that no logos on any cut pieces are crooked. On the other side, there are always defective parts throughout the printing or embroidery process. Recutting a sample is significantly simpler than recreating a garment.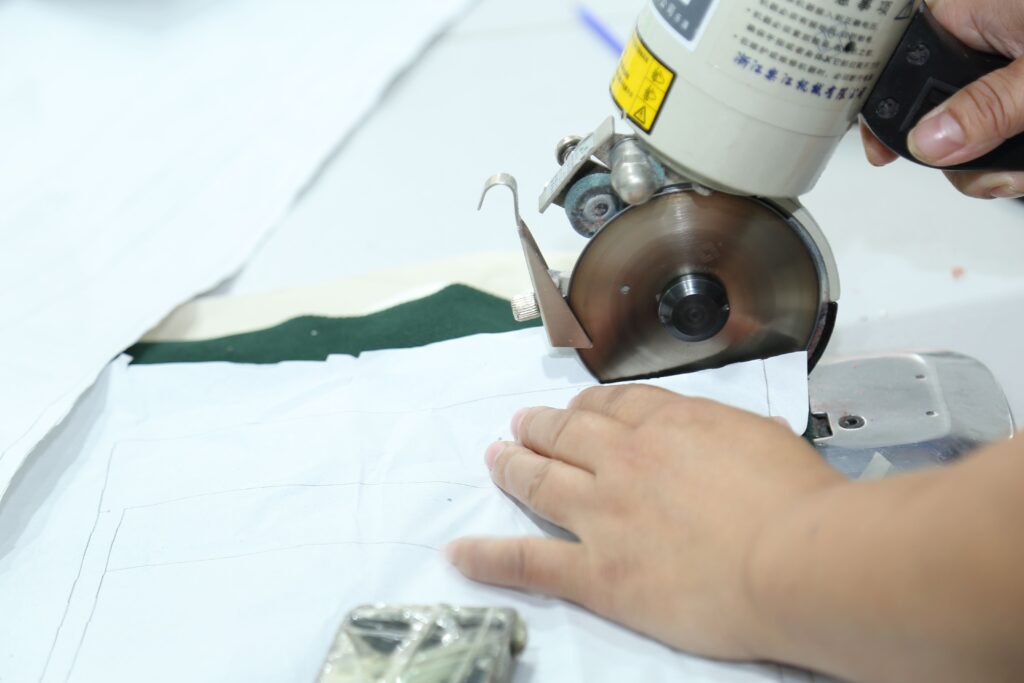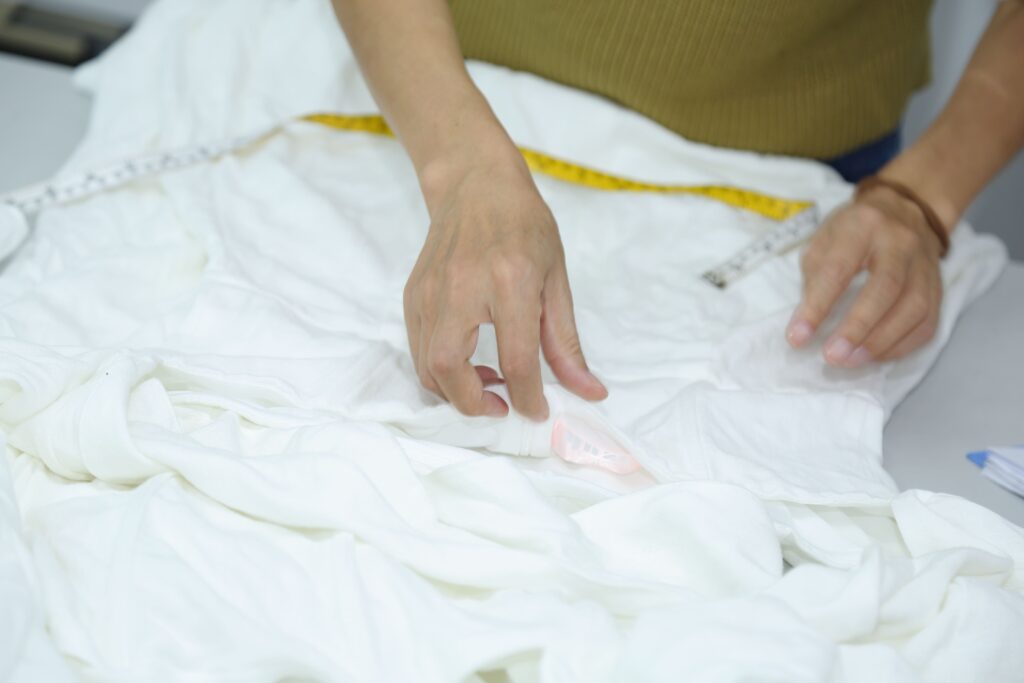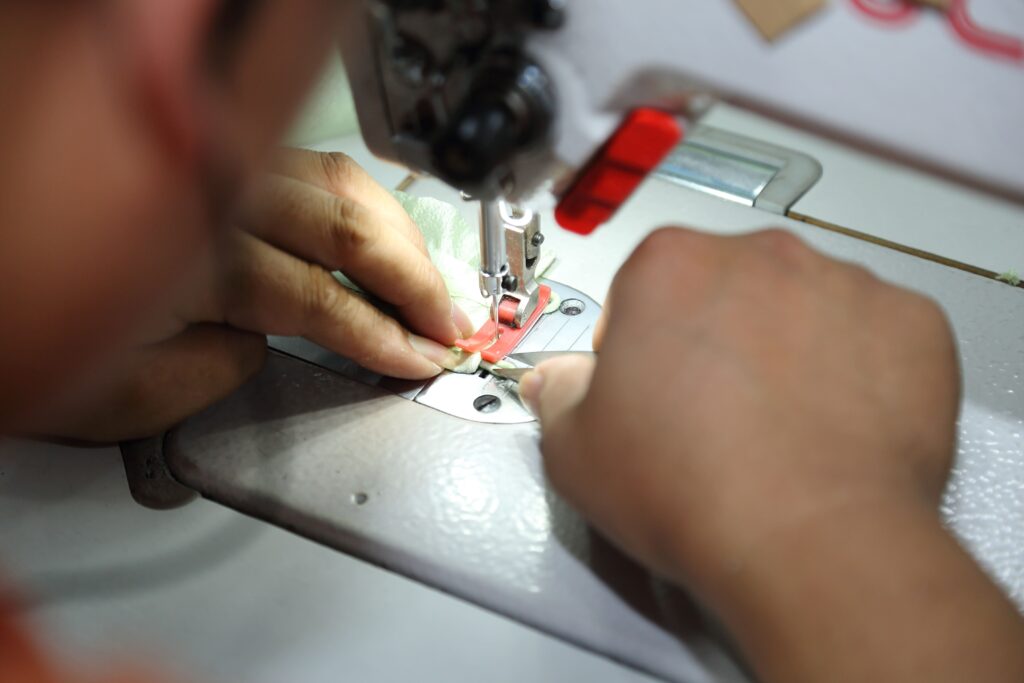 Sewing is one of the most common skills. But were you aware? More than one person is required to complete a garment. Each employee has their area of expertise. Some employees are skilled at overlocking, while others are skilled at binding. Typically, each of them is accountable for a single garment component. After attaching the collar to the body of a shirt, for instance, one worker will transfer it to the next to sew only the sleeves.
Standardized procedures maximize an individual's strengths. Save money, time, and resources.
After sewing, we now have the completed outfit. The next phase entails inspecting quality individually. Our quality control team must check that the garment is correctly assembled without manufacturing defects. This process verifies sizing, stitching quality (skipping stitches, needle distance, etc.), printing and embroidery quality, and stain-free garment cleaning.
We are nearly ready to receive the garments when quality control is complete, from the completed garment to the ideal garment. These are two essential steps: trim excess threads and press. Eliminating all extra cables gives the garments a sleek appearance. And expert ironing can elevate the quality of the garments.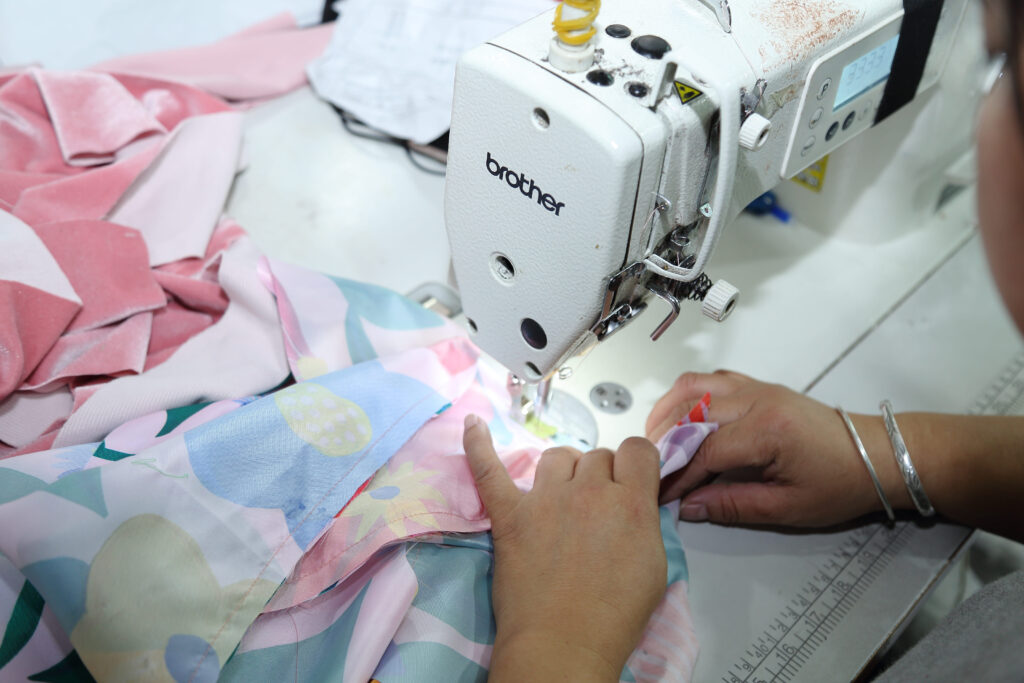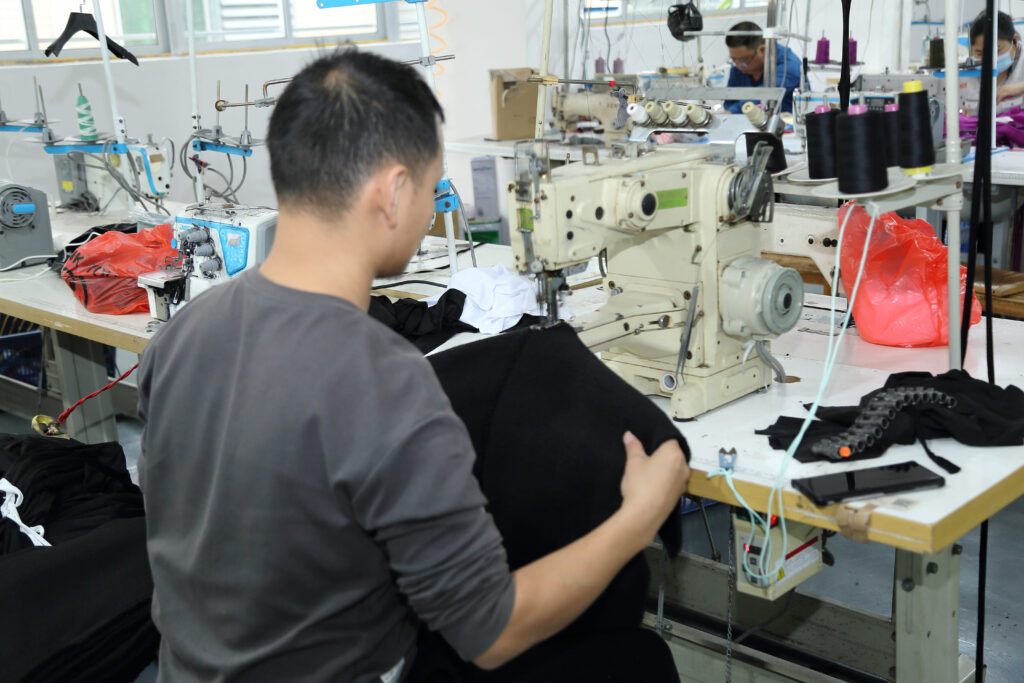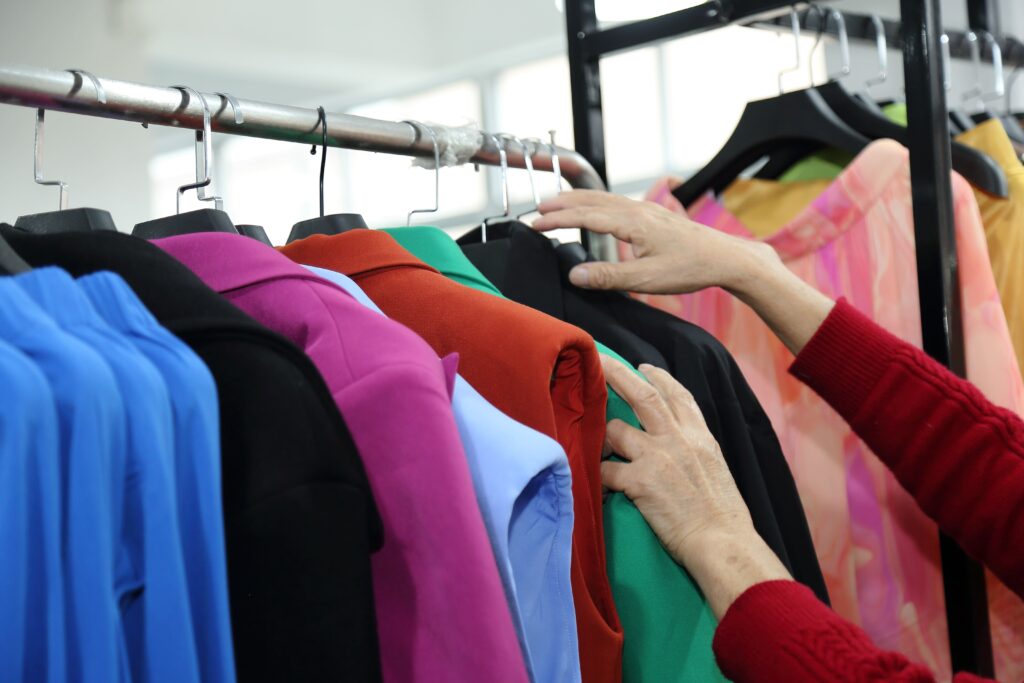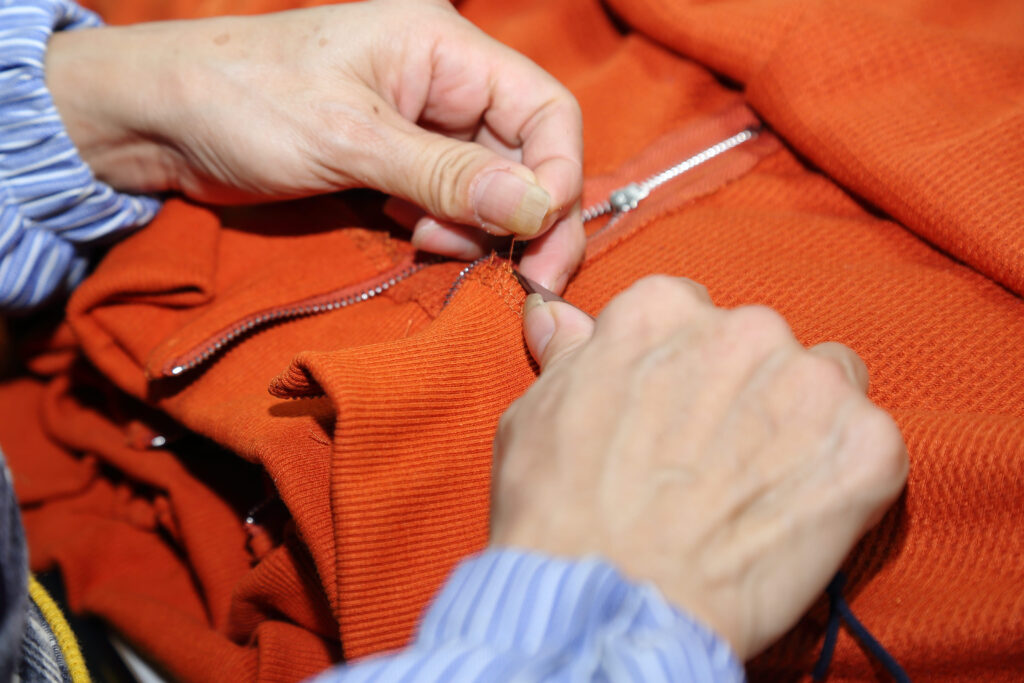 This is the final stage of garment production, where we fold, apply your unique hang tag, and package the garments according to your specifications. Each item of clothing is wrapped in a protective plastic bag before being placed in a shipping container.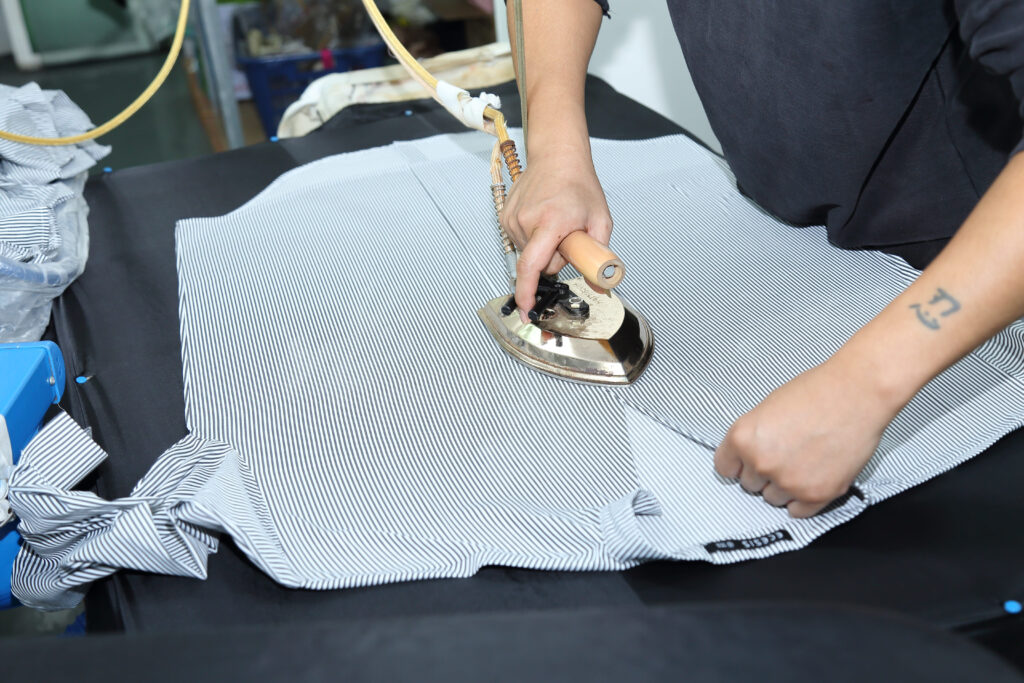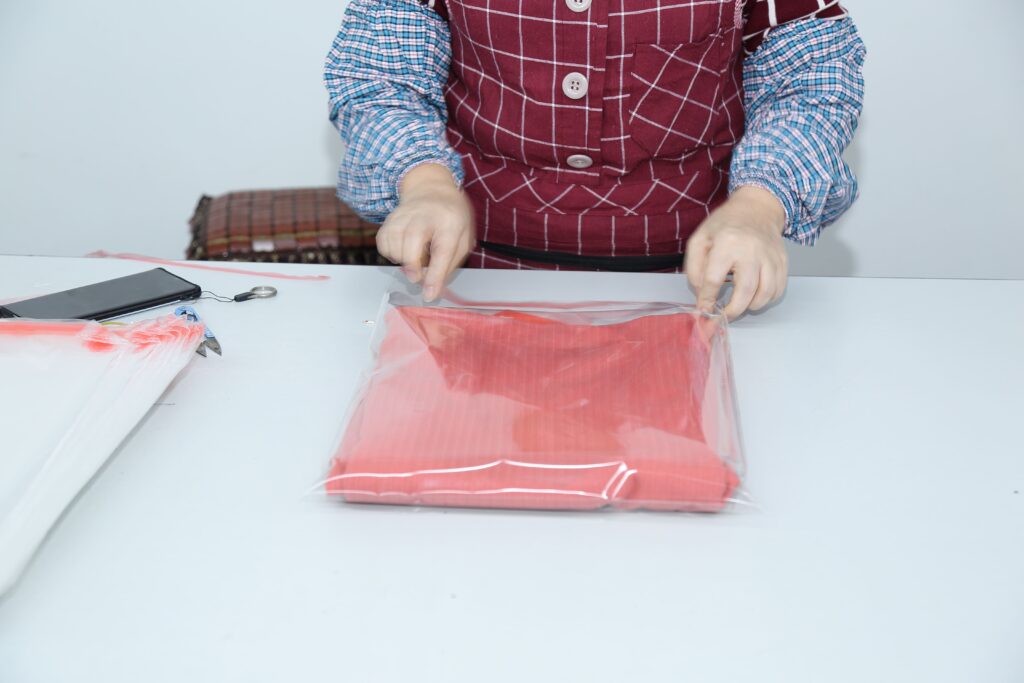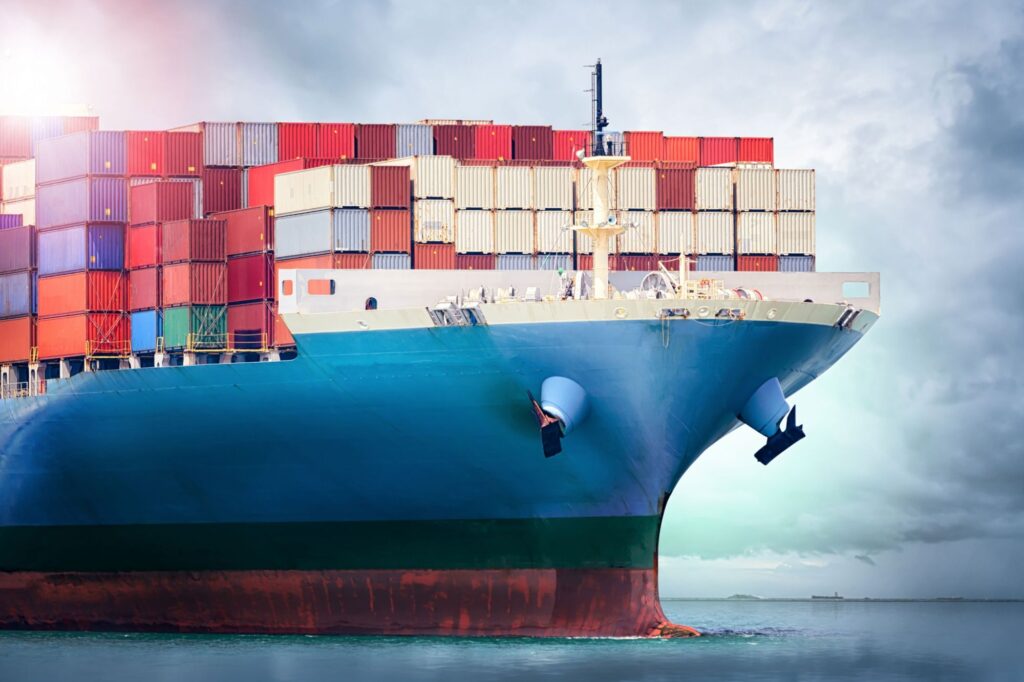 Custom clearance if needed
Our efforts in producing goods in a manner that is safe, efficient, sustainable, and ethical.

As an ethical garment manufacturer, we prioritize the well-being of our employees and the environment in which they work and live across our production and supply chain.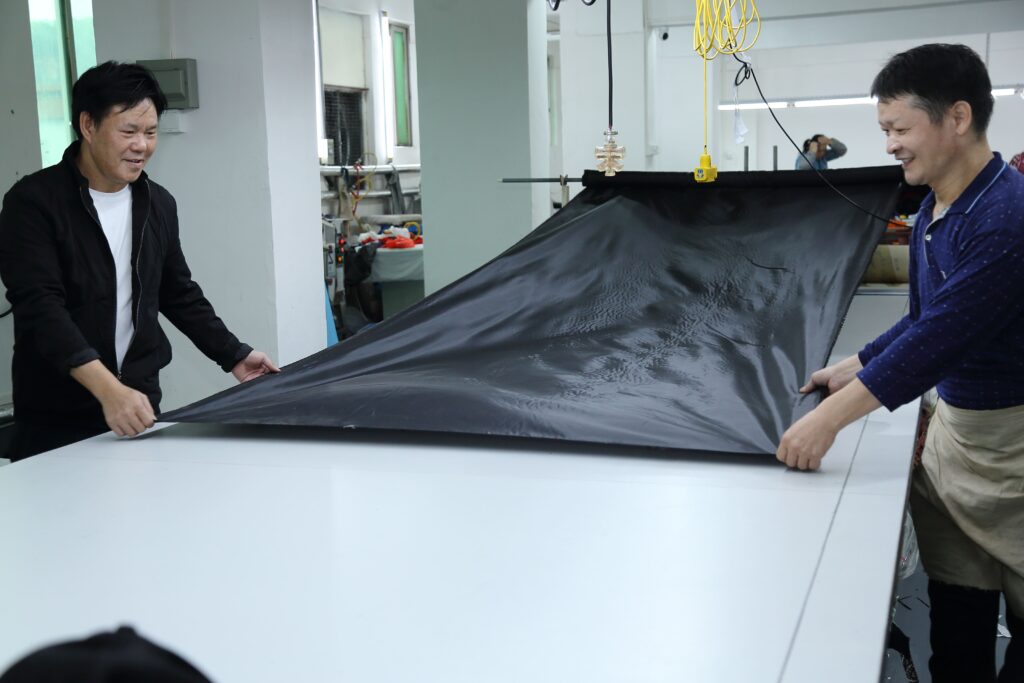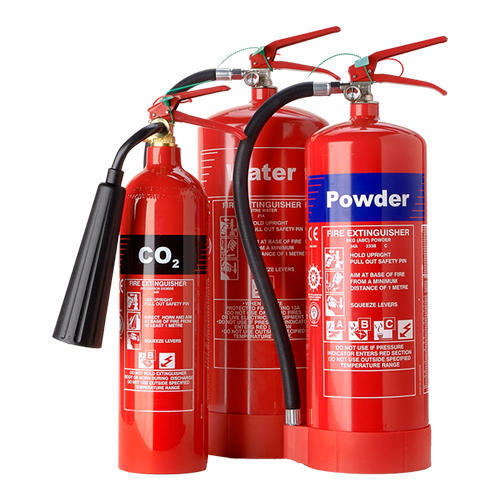 Our crew receives a higher-than-average monthly wage (between $990 and $1,750) plus daily free lunch and dinner. Work for a maximum of 8 hours. If overtime is required, our coworker will receive overtime pay for a maximum of two hours.
Our team members work in a sanitary, comfortable, and secure setting. Our staff performs daily office and workshop cleaning and sanitization.
As for the firefighting equipment, we also examine it every month to verify its functioning correctly.
The internal temperature is controlled between 10 degrees Celsius and 28 degrees Celsius.) No child or forced labor allowed.
We are committed to eco-friendly production and sustainable development. Our production materials are eco-friendly and non-hazardous to the environment and human health. We ensure that our procedures reduce or restrict waste by designing our clothing and reusing materials.
The preoccupation with environmental protection motivates us to produce products of higher quality because only high-quality clothing is durable and reusable rather than disposable.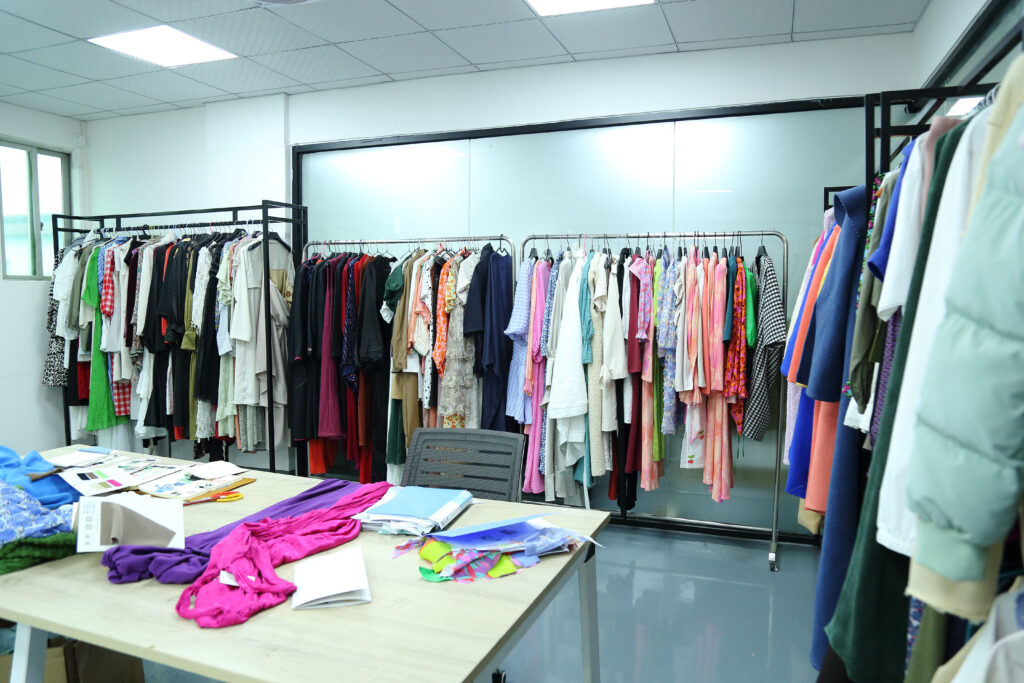 Let's Create Outstanding Products
Together!